Are you tired of small talk and would love a real conversation?
When was the last time you had a meaningful conversation with someone new? Allowed yourself to be surprised in an interaction that wasn't about the usual topics?
The world is rich in interesting things to talk about and interesting people to talk to!
Conversation Salons are relaxed, informal, café style gatherings that bring together people of different backgrounds, ages, nationalities and viewpoints for uplifting and enriching conversations on a whole range of different topics. Whether you're 19 or 90 years old, unemployed or a company CEO, a new member of your community or a long-time local we bring together all different kinds of people at these friendly welcoming events where you meet new people and hear different opinions and ideas.
We are wired to connect but somewhere, amid heads bent over smartphones, in the echo chamber of social media, or across our polarised political landscape, the art of honest, open and meaningful conversation has been lost. The more digitally connected we are, the more we feel disconnected.
At Conversation Salons we are reclaiming face-to-face conversation in the digital age and addressing the problem of human disconnection. Conversation is the most valuable universal currency of human beings, the glue that holds society together! Everything begins with a conversation. It's the basis for everything we do. So we are connecting people one conversation at a time.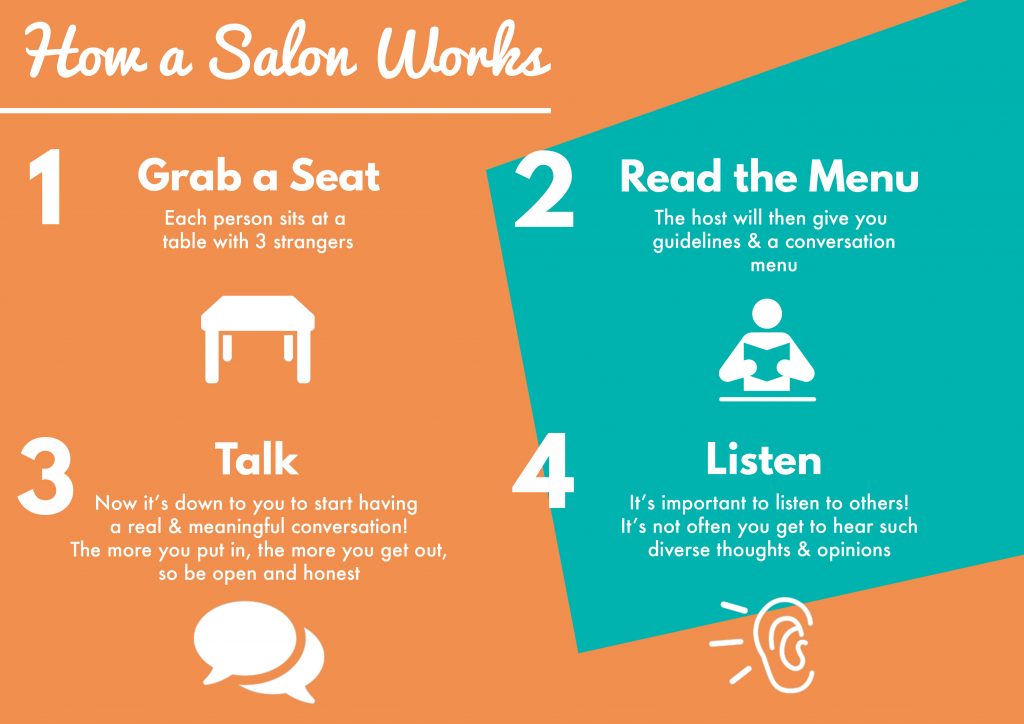 What's our story?
We want a more connected world. We want to be part of the Empathy Revolution. We want Ireland to be a more connected, inclusive, integrated, socially engaged country! We're all about getting people away from their phones and screens, having real face-to-face conversations with people in your community, moving away from chit chat and getting to talk about things you really care about, all about human connection and welcoming in all types of people and celebrating what a diverse country Ireland is and how interesting people are once you invite them to share their stories, ideas and life experiences. We like breaking down the barriers between strangers through conversation! Ultimately there are over seven billion individuals for you to discover, over seven billion treasure boxes of life lessons, wisdom and experience. Since we started thousands of amazing conversations have taken place between people who would never otherwise have met.
Ethos: Our ethos is one of open-mindedness, empathy, tolerance and understanding. We create safe trusted spaces where honest conversation is possible. We focus on our shared humanity and on what binds us rather than what differentiates us. We like to ask the question: What is it like to be you?
The human need to connect, be heard, tell our stories and share our experiences is very strong. Modern life seems to have eroded many of the spaces or places or environments where such conversations took place. Conversation Salons are about creating new opportunities for life enhancing encounters and exchanges. Over tea and coffee in small groups choose from an enticing conversation menu of thought-provoking questions and let the conversation begin.
What a perfect place to brainstorm, problem solve, ponder, discuss, philosophise and reflect on the issues and dilemmas that most fascinate and perplex you! 
 'The moment questioning minds and hearts meet in really great conversation, a portal opens into immensely exciting possibility.'       
Pat O'Donohue
Expand Your World with the Wisdom of Strangers