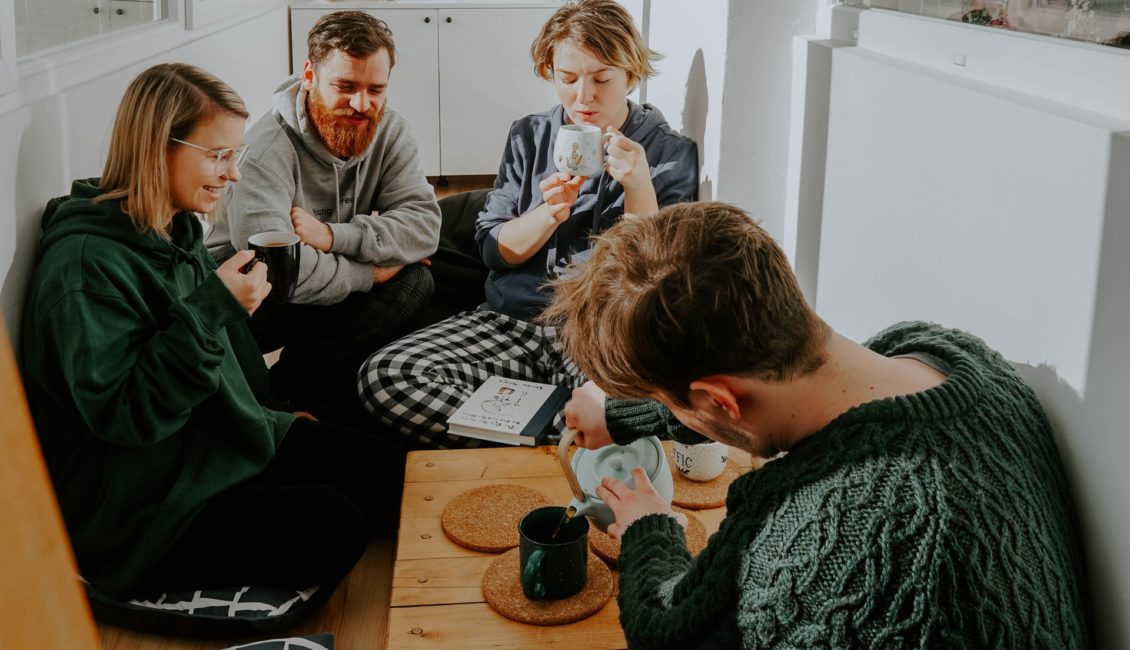 By Emma Carville
Last month I was surprised to find myself amongst a sea of panic buyers in Aldi on Parnell Street. I'd popped in after work on a Thursday evening to find the queues long, the people flustered and the canned goods aisle completely raided. I laughed at how ridiculous the whole scene was, particularly as I watched a lad with 3 cases of beer and 2 packs of toilet roll shouting, 'We're all going to die!' as he strode away from the till point. But it was almost as if the whole population heard him and responded in frenzy. I watch wide eyed as people scarpered from the wind and rain into the nearest supermarkets to stock pile their 'so-called' essential items – milk, bread and of course toilet roll.
Thursday 12th was one to remember after all. The WHO declared coronavirus as an official pandemic; the Taoiseach announced the closure of schools, colleges and childcare facilities and I lost my job. What a day. Only the night before, had the news broken of the first person to die from coronavirus in the country. Now everything was escalating. The ever encroaching issue was really here. We weren't just reading about it in China or Italy anymore, it was now a reality on our little island.
As a twenty something year old in Dublin I am of course renting but my situation is different to the ones you're used to reading about online or in newspapers. Thankfully my housemates are some of my best friends and my boyfriend. An ideal set up really. On that Thursday when things got serious, they got the news they would be working from home (WFH) and so came the massive adjustment period for all of us who would be stationed in the house and in very close proximity for the foreseeable.
Our communal living room beside my bedroom has become a busy little office from 8am to 6pm.Throughout the working day I overhear snippets of phone conversations, I accidentally get caught on camera during their zoom meetings and have a peek at what they're working on from over their shoulders. It's a great insight into their working lives and at times I perch on the sofa with them so I can feel included because any semblance of a working routine for me has completely vanished.
This period of social distancing reminds me of how I felt as a child during the summer when all my friends were off on family holidays while I was left at home trying to find ways to entertain myself. A list enthusiast, this was the first thing I had to make. So The COVID19 LIST was born, chock full of recipes to work on, projects to complete, goals to achieve, things to learn and books to read. There are so many things we put on the backburner because we don't have time and so I wanted to use this time wisely and ironically, to get to work.
So, during the day while the house is at work, so am I. As my gym is closed, I took the initiative to hit the banks of the Royal Canal and start running. My To Be Read pile that was almost as tall as me is now growing to the ground and in many ways I've never felt so productive. However, the hours of the day are longer than ever because I am alone. I miss my classroom full of students and mingling with other teachers at work. I always knew I was a sociable person but I didn't realise just how much I needed others until I wasn't allowed to be with them.
People are scared and it's obvious. There is less smiling as we pass one another, we're avoiding eye contact in the queues and I've found that I'm craving those spontaneous little conversations that used to spark up between strangers and me in a shop, or on the Luas from time to time. But I must remind myself that I am one of the lucky ones who don't live alone. I always knew my renting situation was enviable especially in this city and this enforced lockdown has really made it hit home for me –pun intended.
I have found in this period of uncertainty, all I do is overthink when I'm alone and one big question that was niggling away at me was; What if we get sick of one another? As a house we're used to seeing each other from time to time but are usually kept apart by our tiring schedules and busy social lives. We always have things to talk about and things to catch up on but now that the world has come to a standstill and restrictions are in place, all we have is our modest little house and one another.
Like everyone, this past month my friends and I have had good days and bad days; fortunately more of the former. Just as it's tough for me to be unemployed at the moment, I have also witnessed how tough it is to kick-start your working day in the place you associate with relaxation. Facetime dates and phonecalls don't come close to the feeling of being together, is what I'm told by the girls whose other halves live more than a 2km distance away. And of course, we've all been privy to the effects of stir craziness which is inevitable given the circumstances.
The home office has become a hotbed for procrastination, distraction and temptation. We're working as a team to get through it all though. On the lunchbreaks where we struggle to adhere to our pre coronavirus diets and are dying to boredom eat our Easter eggs we have someone to remind us that it's Tuesday and treats should be kept until weekends. On the days where we have wanted to cry, we've managed to laugh because of one of Mark's ridiculous jokes, Aislinn's sarcastic comments or one of Úna's tweets. Feeling overwhelmed or emotional, we have someone there to make us a cup of tea and hear us out while cuddled up on the sofa.
We are never without laughter in my house or a pot of tea for that matter. We've built our own fortress in Phibsboro with various little bricks – chiefly; binge-watching Luther, drinking cans, playing board games, indulging in too many biscuits and maintaining our positive attitudes. We're together more than ever and to put it simply, I couldn't do this without them. I count myself incredibly lucky to live with great friends – all the time, not just in this challenging present. But, I have found that I appreciate them now more than ever before.
The same can be said for all those friends who you're unable to see right now but are connecting with on Facetime, Skype and socialising with on HouseParty. Despite all our complaints about the digital age it's been a saviour for companies and cliques alike during the lockdown. We've become more reliant on those we love, regardless of distance, as we crave familiarity and connection in a world turned upside down.
In number 52 our friendships have undeniably strengthened in this time of crisis with every house dinner, movie night and not forgetting one rather traumatic incident with a rat in our kitchen. It got me thinking of how people are coping living alone or with family members. How are they finding life? With more time on our hands it's easier than ever to pick up the phone and chat to someone.
It's easy and fairly spontaneous that we keep in touch with our nearest and dearest but in this time of lockdown and isolation maybe it's important that we also remember family members we have less of a connection with or friends who we're not as close to. A check in or catch up could be key to combating loneliness and the conversation can be a great source of comfort to the individual at the end of the line.
During this strange troublesome time there is nowhere else I'd rather be than in Dublin with my housemates. At first we were concerned about being in one another's constant company but I reckon the bigger adjustment period will be when our lives return to normal after the pandemic…whenever that might be.
Read More: coronavirus conversations